Look how they massacred my boy!
I have to tell you about
the most expensive haircut of my life
...
My son and I had been needing haircuts for a while, so we went to a place where we could use
a coupon
. I won't tell you the name of the place, but only say it wasn't so "great" after all.
As we were nearing completion, I looked all the way across the "salon" and even without my glasses I could see
a distinct horizontal line across Eric Jr.'s head
.
For the record, I had not requested a bowl cut for him, but for them to blend from the short to the longer hair on top. Even after having a more advanced helper relieve the stylist,
his cranium was still sub-par
.
What about my own?
I didn't fare much better.
When spun around, I put on my glasses and saw some
serious lack of blend
. I asked if she could try to "erase that line" and she gave it another go.
However, even after that it wasn't right. She tried to tell me that it was because my hair was a bit wet, as though I'd never had a haircut before.
Well,
it wasn't the worst haircut I've ever received.
That was when I was 15 in the Waterloo train station in London. My dad
let
me go first, which meant I got
the "one-armed" barber.
It wasn't the worst (some buddy cuts at A&M were more heinous), but
it was the worst haircut I ever had to pay for
.
In fact, for the first time in my life
I was REALLY tempted to not pay
for a haircut. But, the ladies were nice as can be, so we paid, but I made sure Victoria & her brother both got 2 lollipops out of the deal.
I hoped the bad haircut was obvious only to me and that it wasn't so bad. Besides, it will grow back, right?
When I got home,
my wife was not impressed.
She said we should go back there and make them fix our heads. I told her that it wasn't so much a question of their
being willing
, but rather their
being able
.
She said something to the effect of, "Well, he's 4, so it's not that big of a deal. But you're the pastor of a church,
you can't stand in front of people on Sunday looking like that!
"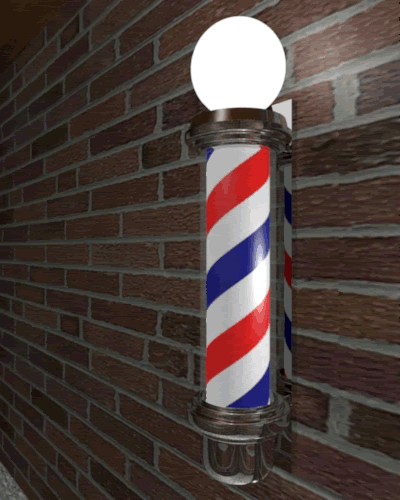 At her vehement behest, we went to
a proper barbershop
. You know, the kind where it smells like a mixture of Brylcreem & cigars and George Jones always seems to be playing in the background.
They fixed me up as we talked about the Cowboys, completing
the most expensive haircut of my life
.
From here on out, I'm
back on the barbershop plan
exclusively. But, if you see Eric Jr., try not to give him a complex as you see how they massacred my boy.